Summer looks - Côte d'Azur
We're excited to showcase what we have in store for you this upcoming season. We've travelled to the sunny luxurious south of France to show off some of our best looks yet!
Our goal is to inspire you with ideas for what to wear during your trip to the Côte d'Azur or any other exotic destination you have this summer. We've curated a collection of different looks to have you covered for any event you may encounter during your stay.

For the full coverage of all our looks, please visit our total lookbook. We hope to help you have a stylish and memorable holiday this summer!
Look 1
Going for a fancy lunch at the iconic Hôtel de Paris? This elegant look is the way to go. Add a touch of class with the houndstooth jacket over a blue t-shirt and off-white cotton trousers. This stylish outfit will serve you well whether you're enjoying a drink on a yacht or attending a cocktail event in Cannes.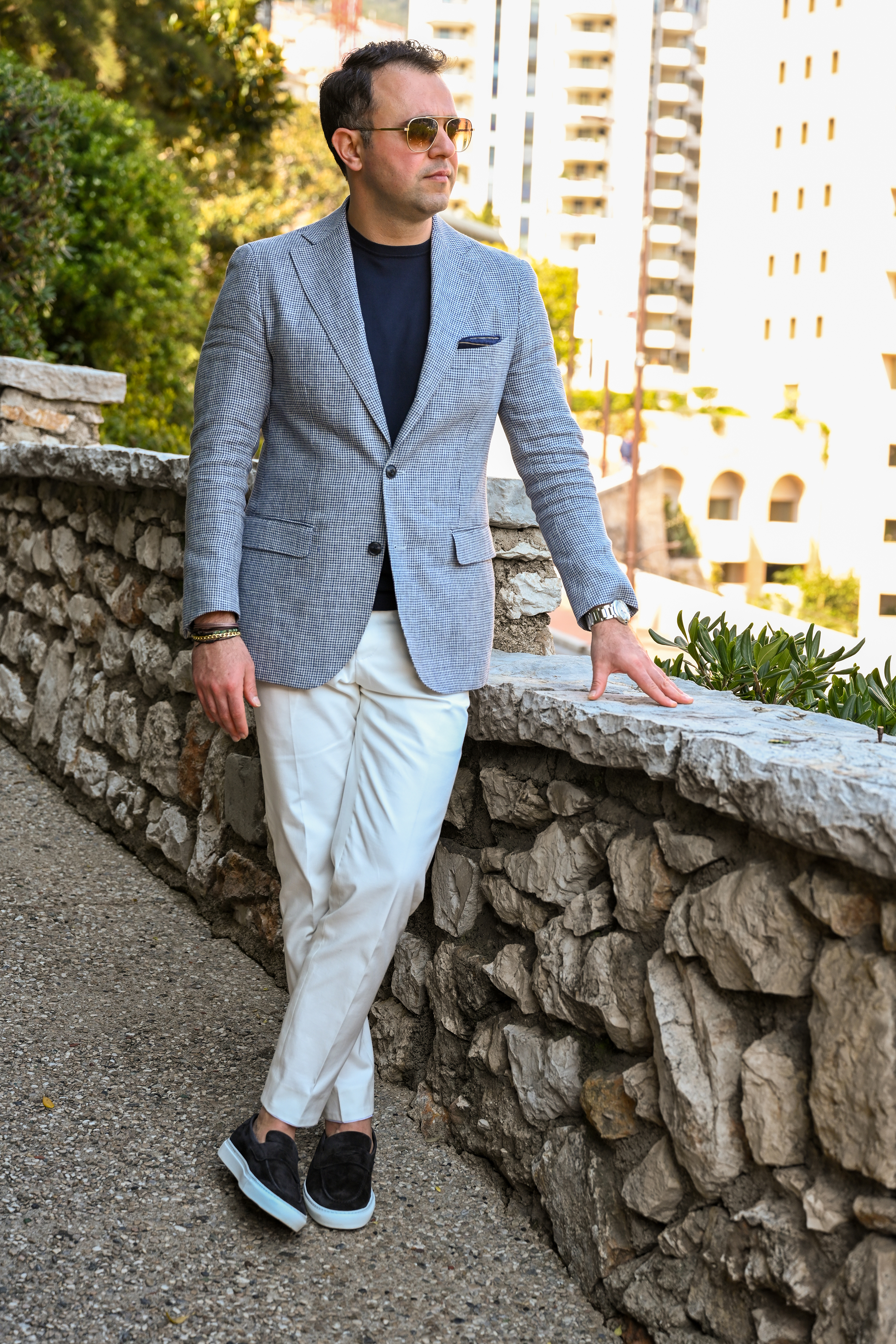 Look 2
For a more casual look that still exudes the maritime theme, this look is what you need. The sky blue long sleeve polo paired with white cargo trousers is perfect for a stroll along the coast of Villefranche-sur-Mer. The luxurious look of the polo combined with its breathable cotton fabric is perfect for the warm weather.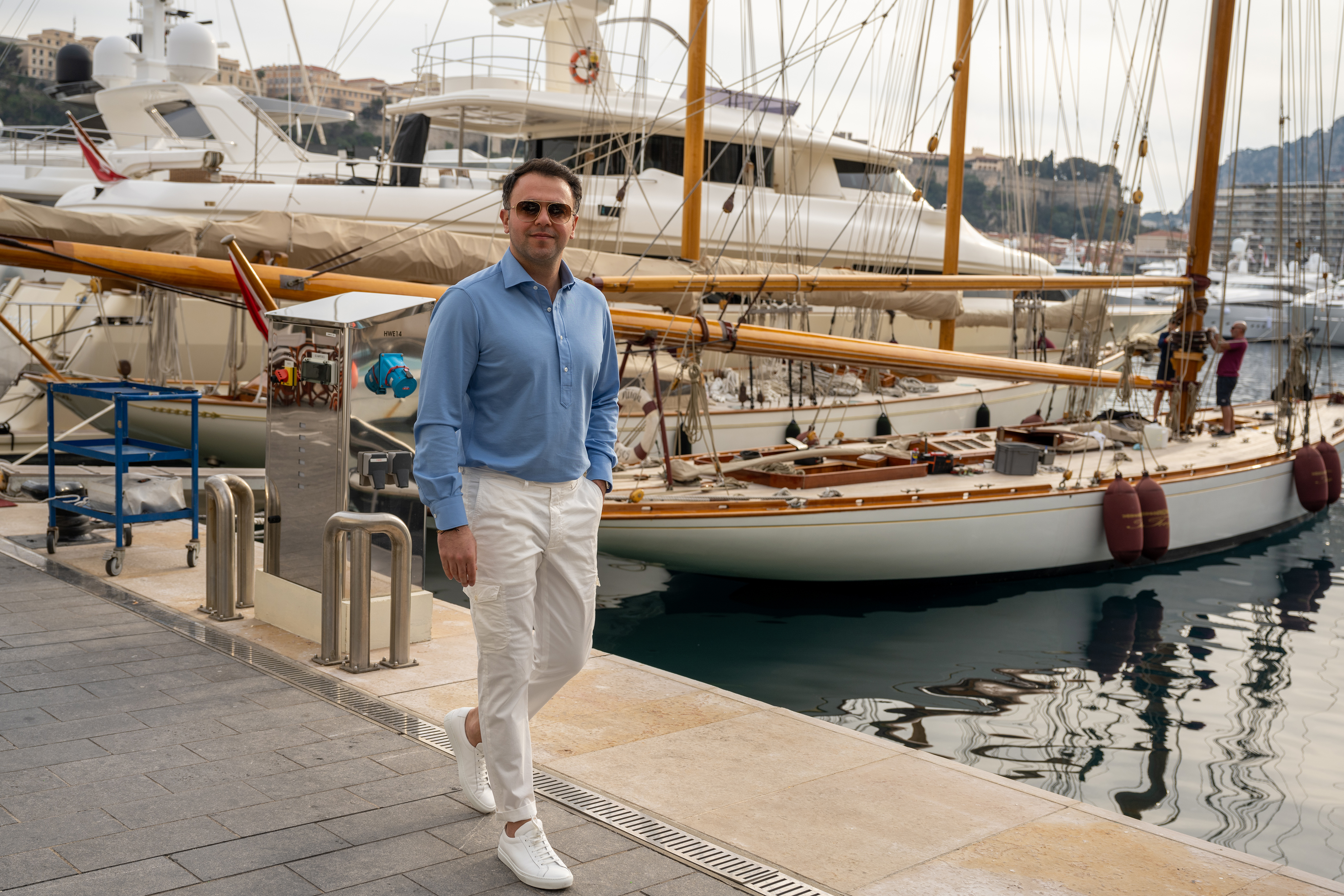 Look 3
Ready to make a statement? Impress your fellow elites at a soirée in Cannes with this bold and stylish ensemble. Our beige jacket with blue check will make a guaranteed lasting impression. Pair it with a matching blue polo shirt and a light pair of trousers for a complete look. To add that extra touch of sophistication, slip on a pair of suede penny loafers.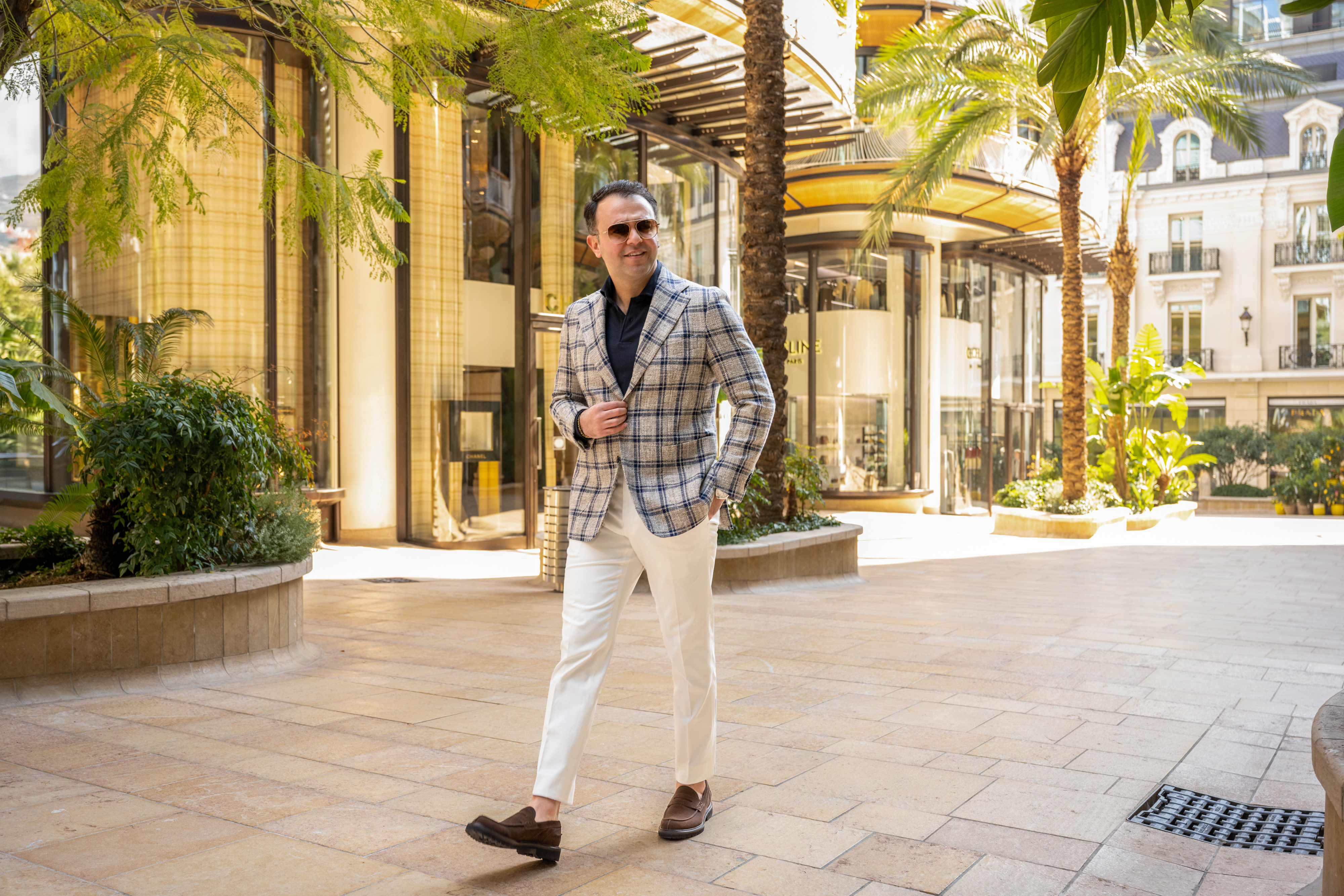 This outfit is perfect for a fancy dinner or a night out at a glamorous event. With this daring yet refined look, you'll show everyone that you know how to make a statement and turn heads. Don't wait any longer and make a lasting impression on the French Riviera this summer!
Look 4
Are you unsure where the day will take you? In that case, this is a safe option for any occasion. The sophisticated herringbone patterned trousers paired with a beige polo and blue vest can be dressed up or down depending on the occasion or the weather. Walk down the charming streets of Nice or take in the stunning scenery of Antibes in style.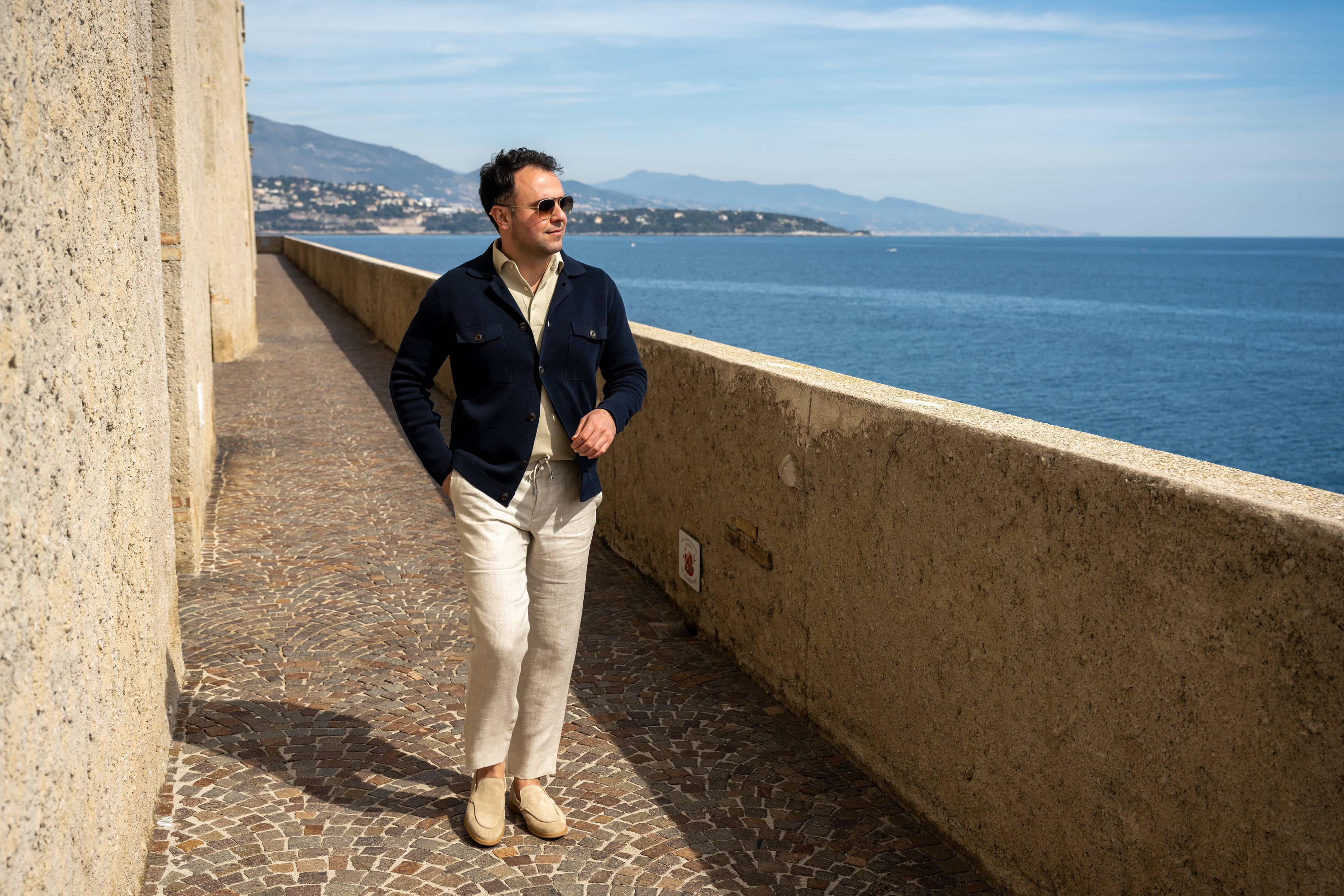 Look 5
If you're looking to spend a relaxing day at the beach, Look 5 is for you. This tropical printed linen short-sleeve shirt must-have is perfect for turning heads in the chic seaside town of Saint-Tropez. Pair it with crisp white trousers and a classy sneaker for a sleek and stylish look as you stroll along.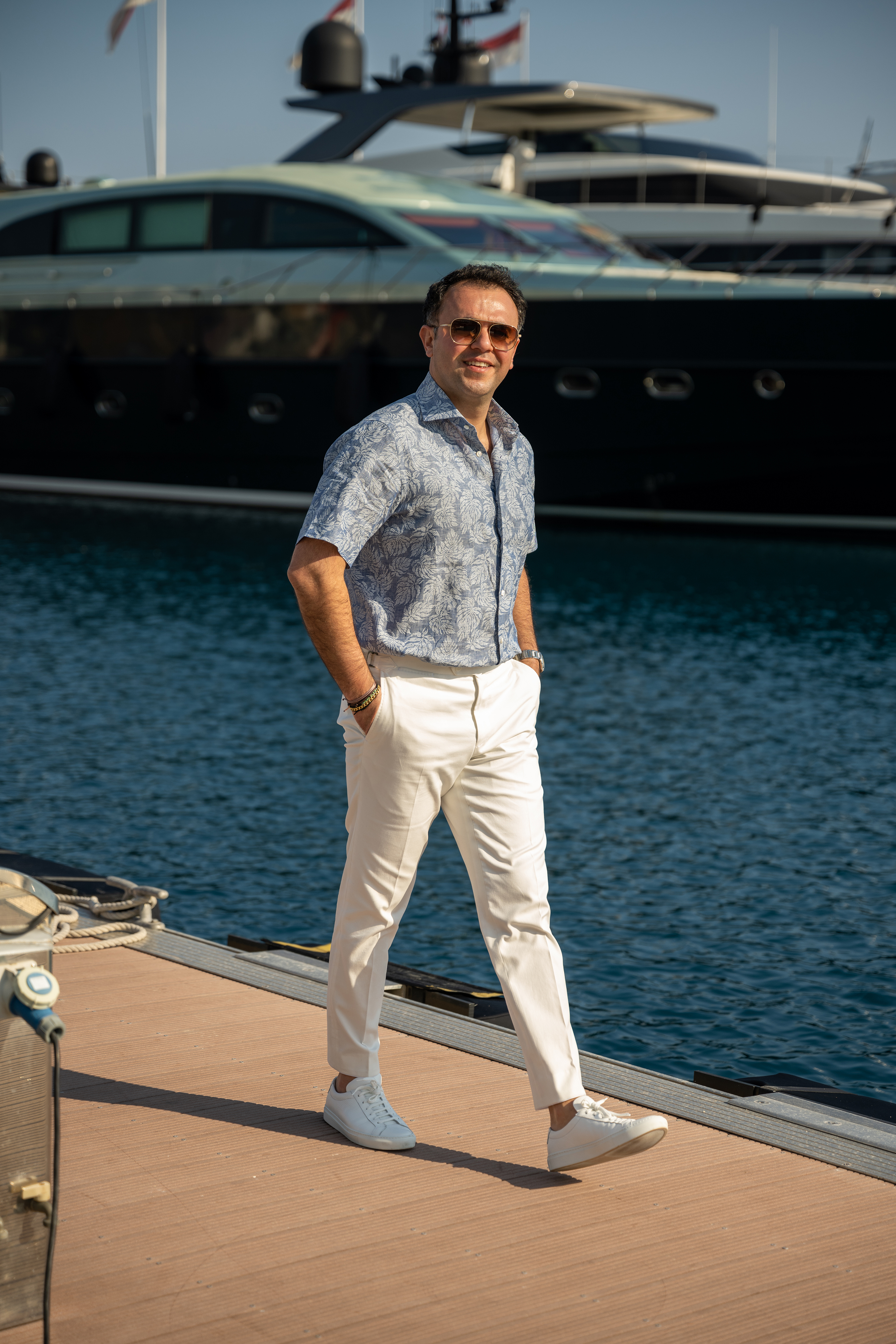 There you have it! These looks will keep you looking your best while on holiday. But remember, this is just the beginning. Visit our look book to discover many more combinations and stunning looks.

So get ready to take on the Mediterranean coast in style, and don't forget to use your French accent for that finishing touch! Bon voyage!
And don't forget, we're here to help you look your best no matter where your travels take you. If you need some expert guidance, we're always happy to schedule a styling appointment just for you.

Simply book an appointment via de website for a time that works for you.
---
publicatiedatum: 06 April 2023